I would like to do a post soon about the giveaway prizes I prepared but ill do that soon.
I remembered I watched some interesting and surreal films a few months ago which I thought I should share cause they seem like they would be everyones cup of tea on here.
The first film is
Valerie and Her Week of Wonders
The
1970
film adaptation of
Valerie a týden divů
was filmed in
1969
starring the then 13-year-old
Jaroslava Schallerová
as Valerie, with a supporting cast of Helena Anýžová, Karel Engel, Jan Klusák, Petr Kopriva, among others. It was filmed in the
Czech
town of
Slavonice
and surrounding areas. The film portrays the heroine as living in a disorienting dream, seduced by priests, vampires, men and women a
I quite like this film it was a nice change from the normal style of films and mainstream movies we watch mostly. I would say its in the Avant Grade style and a mix of milder surreal Alice with a Religious painting. The film themes are mostly that of puberty and the trails of growing up and religion against human erges. But their shown through the characters with folk lore and magic as metaphors to create a bizarre world in a real setting.
As and example Valerie turns 13 which also starts her to begin her period which she takes lightly and also possess magic ear rings of her Mothers. The ear rings make her immortal and play are a main feature against the dark magic and vampires she meets. Its set in a beautiful Czech town in a huge beautiful mansion for the most part with a huge garden with crumbling walls and overgrown plants.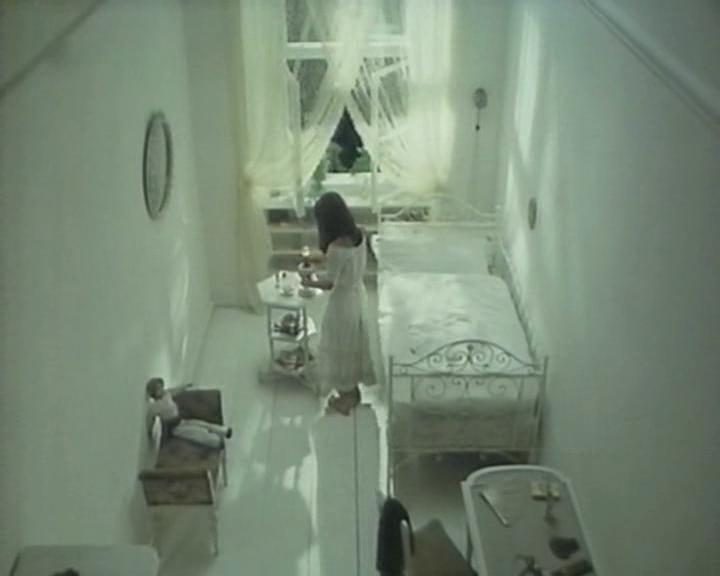 -------------------------------------------------------------------------------------------------------------
The second film is a film called
Black Moon
"Black Moon
, a 1975 film directed by
Louis Malle
, was the winner of two French César Awards (for sound and cinematography). Shown at the 1975 New York Film Festival, it was distributed in the United States by 20th Century Fox.
The free-flowing narrative pivots around a confused teenager (
Cathryn Harrison
) who witnesses a war between the sexes and finds herself involved in numerous dream-like situations at a country estate. An underlying subtext offers a convoluted commentary on the women's movement of the 1970s.
Also in the cast are
Joe Dallesandro
,
Therese Giehse
, and
Alexandra Stewart
. The film was shot in Malle's own 200-year-old manor house and Malle's surrounding 225-acre (0.91 km
2
) estate in the lush, wild Dordogne valley in Quercy, near Cahors."
I will admit this film didnt settle with me aswell as Valerie did but i did watch the entire movie. It's a movie that is probably one of the most odd movies ive ever seen. But it keeps you entertained enough to want to know why and what is happening. You want to know why is their a war going on between men and woman? Why is this one girl not taking part? Who are all the weird characters she meets? Why do they not speak sense or why does she not even question them?
If your not into surreal or dont have the paitence of trying to understand weird characters and narrative then this movie may not be for you. But it does have some lovely imagery and lots of artistic value and makes you thin outside the box because it is outside the box. It may be difficult to understand or accept at parts but i feel that this is point of it.
-----------------------------------------------------------------------------------------------------------
I have plans to become very busy with more art and productive as a person as a whole. I want to do so many things including putting things in my Esty shop very soon.
Take care <3